The Red Phone
The Red Phone is a SIP soft phone application for iOS and Android that you can use with an Asterisk VOIP server.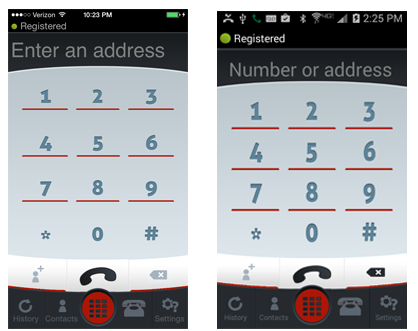 The Red Phone is built using the Linphone open source code, with only a few modifications:
It is painted red to match the colour scheme of our Raspberry Pi
It only has phone functions; the video and chat features in the Linphone core are hidden.
You can setup a 'Red Phone Number' to get one button dialing and auto answer from your most important contact.
The Red Phone on Google Play.  

User Guide
To connect to your Asterisk server, tap the settings button. You will need to know your user name and password,  and the IP address of the Asterisk server.  Your user name is usually your extension number on the Asterisk server. The IP address of the server will vary according to your setup; your server could be on your LAN, or accessible to the internet.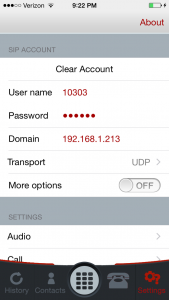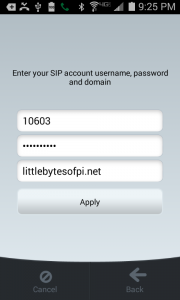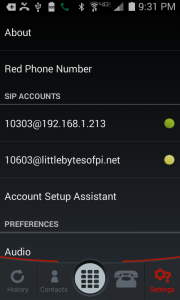 If you wish to enable the 'Red Phone' feature, enter a phone number in the settings.
The Red Phone will automatically answer calls from this number. You can dial this number with one click of the phone icon

.
Once you are connected to your Asterisk server, you can start making and receiving calls.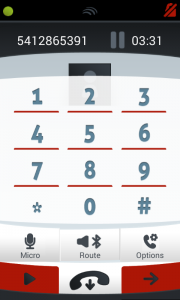 When you are in a call tap the Options button for additional features.  You can transfer a call to another number, or add numbers to create a conference call.
Setup Your Own Telephone Network
We use The Red Phone with our Asterisk VOIP server running on a Raspberry Pi to get free home phone service. The setup is described here:
License and Source Code:
The Linphone open source code is licensed under GPL. Linphone source code is available on GitHub.
Our modifications to the source code to build The Red Phone are available on Bitbucket.